HIV, or the human immunodeficiency virus is a virus that left untreated may lead to acquired immunodeficiency syndrome or AIDS. Unlike some other viruses, even with treatment some people infected with HIV may never eliminate the virus.
In an animal model of HIV, within 24 hours of infection, the virus hitches a ride on immune cells and travels throughout the body. HIV has a special propensity for immune cells, especially T cells. T cells help the body fight infections by activating the production of antibodies (large molecules that neutralize pathogens) and triggers inflammation to kill pathogens or destroy cells containing microbes. Left untreated, HIV infection reduces the numbers of defensive immune cells in the body, leaving HIV infected people (HIV positive) highly vulnerable to infection with other foreign agents (opportunistic infections) and cancers.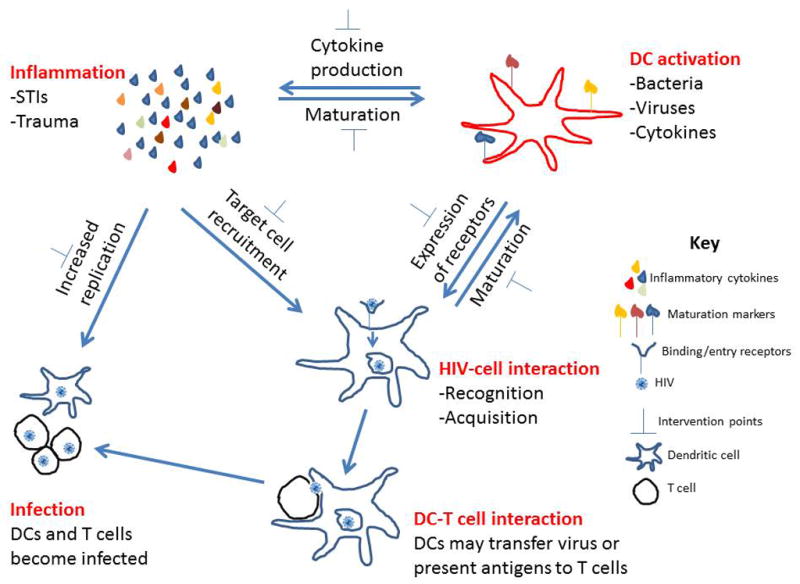 DC (dendritic cell)- A type of immune cell that plays a primary role in infections with HIV.
They are important regulators of immune system responses to infection.
https://www.ncbi.nlm.nih.gov/pmc/articles/PMC4033703/
From 80-90% of immune cells are found in the walls of the intestines and in the tissues surrounding the intestines. HIV tends to accumulate in these tissues and attack them. These inflammatory responses may weaken the gut barrier resulting in inflammatory digestive issues for HIV positive individuals.
"Inflammation and immune activation accelerate heart disease and stroke, and chronic HIV infection results in both," says Robert T. Schooley, AIDS researcher and Professor of Medicine in the Infectious Diseases division at the University of California at San Francisco. In addition, this population is at increased risk for certain cancers, gastrointestinal, liver and kidney problems.
There are no cures for HIV, but with proper medical care, the numbers of virus infecting a person and their symptoms may be controlled. Proper medical treatment dramatically improves and prolongs lives. Anti-retroviral therapy (ART or ARV) is used to treat HIV infections.
When the "cocktail" of medications is taken as prescribed, viral loads (the number of viruses in the body) are decreased. These medications can reduce the numbers of HIV down to very low levels (called "undetectable"). However, in some individuals HIV can continue to infect immune cells. [Note: The CDC states that individuals with undetectable virus loads have no risk of sexually transmitting the virus.]
The body must be in immune balance, in immune homeostasis to protect the body from infection or fight infections. The immune system must produce the right ratio of inflammatory cytokines (pro-inflammatory) to anti-inflammatory cytokines. It needs enough inflammation to destroy the pathogen, or in this case HIV, but not so much that healthy tissues are damaged.
A recent study of people that have been treated over many years for HIV reports that HIV positive individuals are at a higher risk of getting diseases common to older individuals. Individuals that were infected in the early years with HIV are now in their 50s and 60s and develop inflammatory-related conditions at a significantly higher rate and lower age than uninfected people of the same age.
Summary:
The key to staying healthy is to remain in immune homeostasis, immune balance—this is true especially for people with chronic infections such as HIV.
Please contact Dr. Hellen if you wish to enhance your quality of life-don't you deserve to do that?  The first 30 minutes of discussion are gratis. Dr. Hellen may be  contacted by using this form or calling:  302.265.3870 (ET-USA).